Vacation Rental Services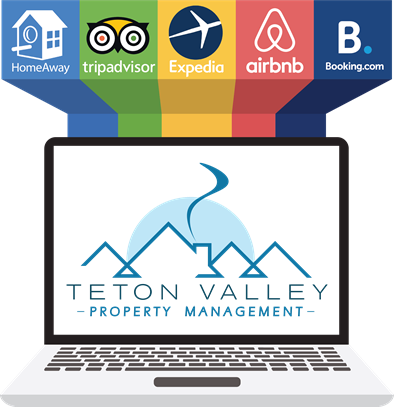 Teton Valley Property Management, Inc., started its vacation rental and short-term rental venture with an online booking website, which was the first of its kind in Teton Valley. Today, we still offer the only comprehensive dedicated website to allow for online vacation rental reservations in Teton Valley and Alta, Wyoming. As this ever changing market has evolved, we have evolved with it, and will continue to do so. Read more about our marketing and benefits below.
Rates
As with TVPM's long-term rental program, we offer competitive rates for Vacation Rental management in Teton Valley. Also similar to our long-term program, additional expenses, and unforeseen charges and fees common to the industry are minimal, if not nonexistent.
Included:
• All reservation details, bookings, professionally drafted leases, and administrative work.
• Credit card booking fees, management software fees, cleaning fees, sales tax, and much more is absorbed directly by the property manager or the tenant.
• Set-up and check-in/check-out inspection services.
• Consumable materials such as toilet paper, paper towels, toiletries, coffee, and more are included. No need to count on budgeting for restocking supplies for your vacation rental.
• Emergency on-call services and special tenant requests at no additional charge.
Homeowner Use
TVPM's program does not restrict an owner's usage unlike many of our local competitors. Our policy is that you use your vacation home as often as you wish. Simply provide blackout dates and the details of your arrival. TVPM will even set up your home just as we would for a vacation renter upon request and at no additional charge. Need cleaning service when you depart? We will only charge the amount it costs us to your account. Wish to clean the property on your own? No problem! No cleaning charges are assessed if the property will be left clean by the owner at his or her departure.
Cleaning Services
TVPM uses subcontractors, not employees, for cleaning and other services. We pay market hourly rates and expect quality work in return. In the event standard cleaning is more costly than the cleaning fees collected from the tenant, TVPM covers the additional cost.
Marketing
As mentioned above, TVPM started its business with the only local online reservation system available. Today, that system and dedicated website has evolved to conform to the fast-paced marketing evolution of the vacation rental industry. Airbnb, Homeaway, VRBO, Flipkey and more - our website integrates all of these systems to provide up-to-date reviews, rates, availability, and it allows for immediate booking so no opportunities are lost to delays and office hours. For homeowners wishing to participate in Airbnb, Homeaway, VRBO, Flipkey or other vacation rental marketing programs, TVPM will provide insight and then integration directly into our system. For specific applications, our company will even share or absorb the cost of this marketing.
All of our properties will have professional photographs to be able to compete with the many vacation rentals offered locally. Our business offers comprehensive virtual tours, video services, unique descriptions, and the ability to showcase your property to its fullest potential to reach the maximum number of vacation rental users. We know that in today's digital age, online experience is of the utmost importance, and we will continue to be on the forefront as this sector evolves. TVPM's short-term vacation rental program and lodging department also works closely with other online marketing avenues, social media, local providers, businesses, Chambers of Commerce, and more for cooperation and to establish positive and vocal word-of-mouth. Local discounts are a key aspect to our business and spreading the word about your property to new users is key.
Accounting
As with our long-term rental program, TVPM's policies regarding accounting are stringent. No funds are commingled with our business operation funds, long-term rents or security deposits. Monthly payments and reporting for each owner is standard.
TVPM offers performance, an outstanding reputation, and even offers matched rates for local competitors with similar services. Give our online booking website and system a try at TetonValleyVacationRentals.com.
Experience Makes All The Difference
We combine years of experience with the most advanced systems to manage properties of every size with maximum efficiency and effectiveness.